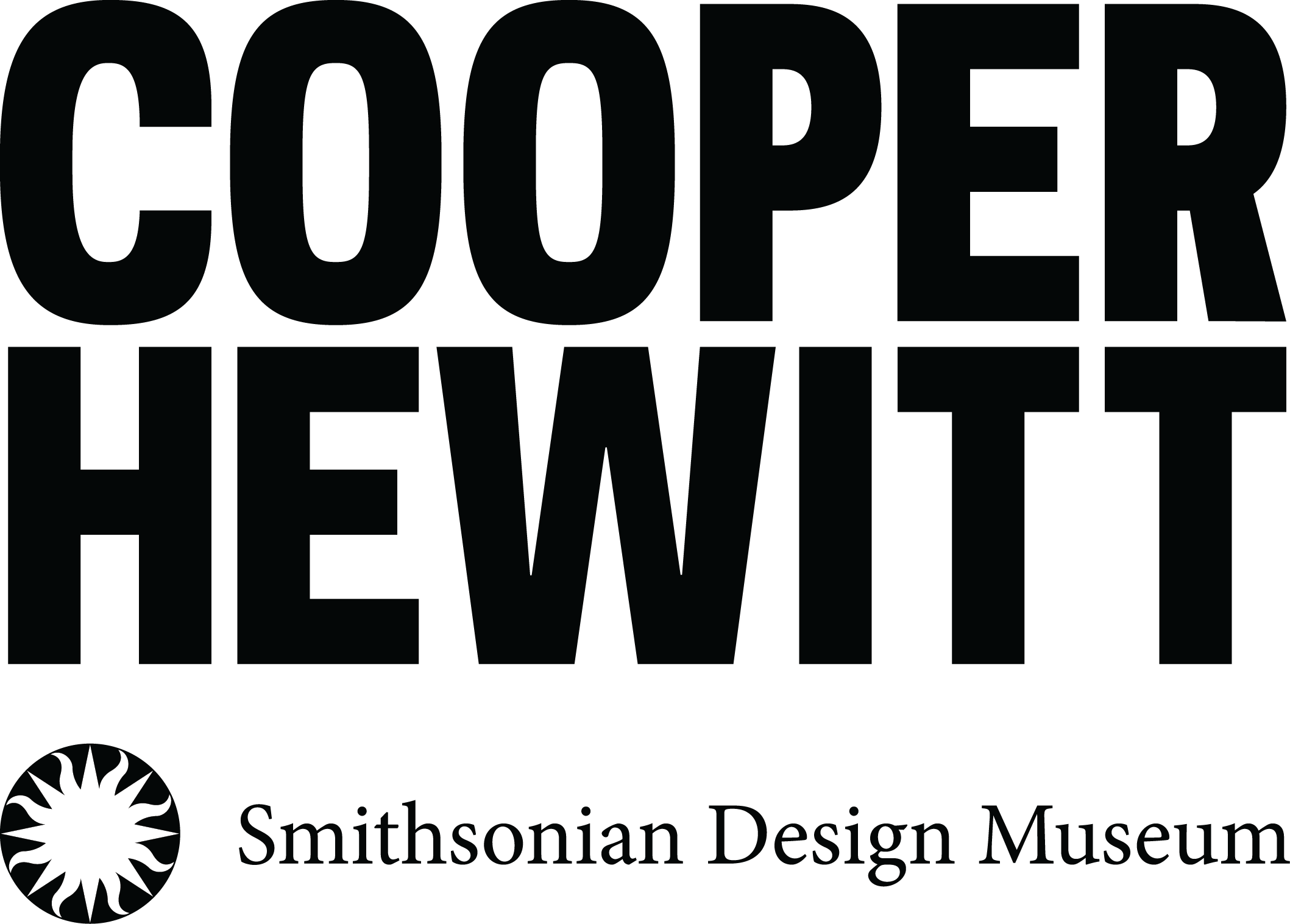 ---
Watercolor Maptiles is a web-based, open-source mapping tool designed by Stamen Design, a San Francisco-based data visualization and cartography design studio. The site displays OpenStreetMap's data with the hand-hewn textures of watercolor paint. (OpenStreetMap is a collaborative project to create a free, editable map of the world.) To explore and use the map, users can enter a location into the navigation bar, pan, scroll, and zoom in and out (zoom levels range from 1 = whole world/furthest zoom, to 18 = closest zoom). Users can take screenshots to create images for use in their own open-source projects, and they can embed the map into their own websites. Launched in 2012, Watercolor Maptiles is part of a larger web-based cartographic project to create free, open-source tools that present public data in highly visual ways.
The website you are experiencing here is a duplicated live version of the original Watercolor Maptiles site, hosted on Smithsonian Institution servers and domain. In 2021 Cooper Hewitt, Smithsonian Design Museum acquired Watercolor Maptiles into its digital design collection. You can view the work's collection record here. It is the Smithsonian's first acquisition of a live website into its collections, consisting of over 56 million map tiles (separate png image files) and the underlying code. In addition to archiving these assets, Cooper Hewitt worked closely with Stamen Design to copy the live site to a Smithsonian version where it will be maintained and made available under Creative Commons licensing, facilitating the free access and interactivity that is inherent to the work.
---
Why this website?
Stamen Design is an award-winning design firm and in 2017, won the prestigious National Design Award for Interaction Design. Watercolor Maptiles is one style in a series of Stamen Design's legendary digital maps—open-source mapping tools that are searchable, zoomable, and downloadable. The map styles are built on OpenStreetMap data, so they are freely available for use wherever OpenStreetMap data is displayed. Stamen designed the maps with free public access as a fundamental goal. The maps render the world in several styles from which users can choose, as seen below—a conventional terrain map, a high-contrast black-and-white toner map, and the watercolor style that imbues the digital map with the hand-hued textures of watercolor paint.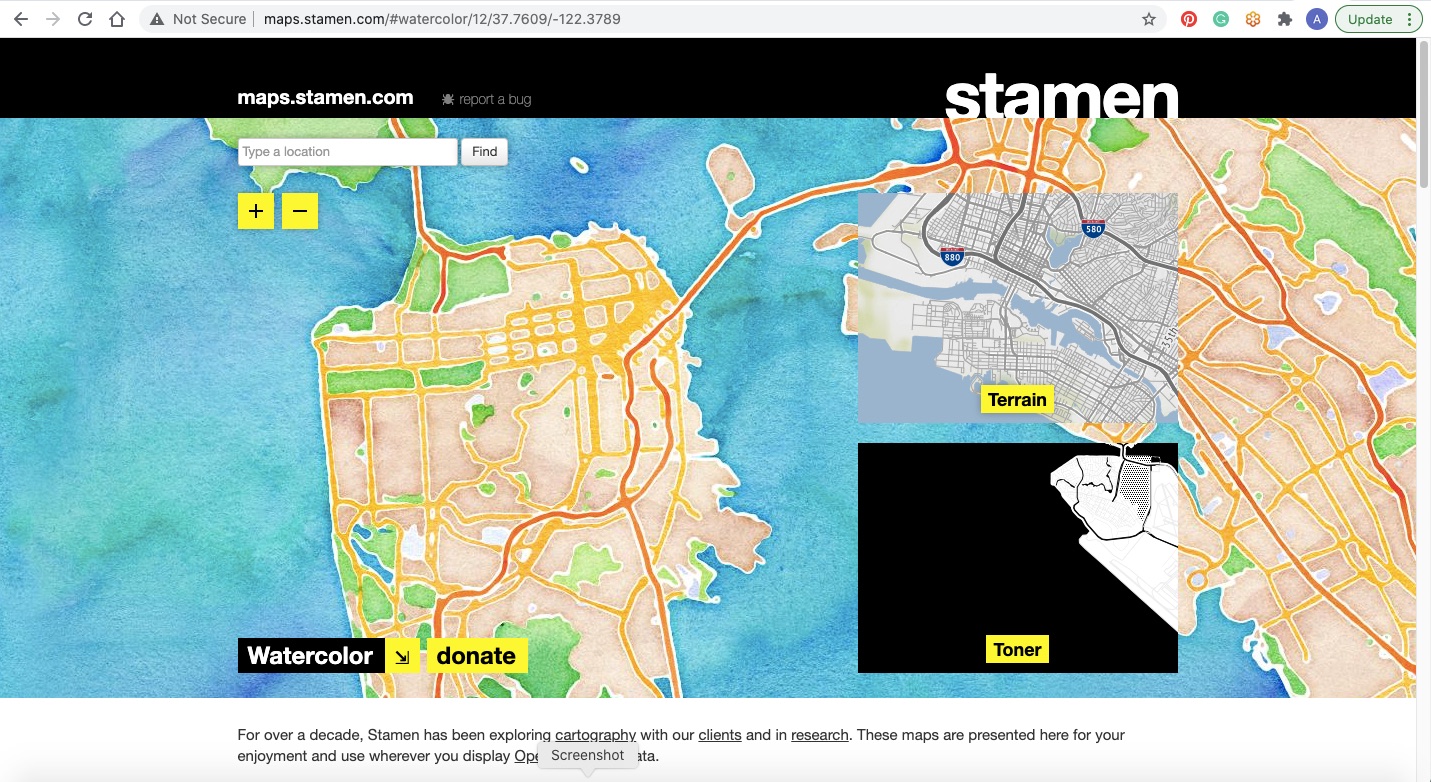 Watercolor Maptiles breaks from traditional online cartography by emphasizing aesthetics at the same level as representational accuracy. The marks on the screen are based on real-world data, and the mapmakers have taken liberties with the rendering process to emphasize that the maps are the product of human–computer interaction, not the end result of faceless robotic activity. Water is rendered in blues mixed with turquoise and violet; green spaces are yellow, forest and muddy greens; terrain is a combination of peaches, browns and violet; motorways are oranges, reds and browns; buildings are lavender gray. The colors retain the texture of rough paper. A wet-wash technique results in darker tones where the pigment accumulates and disperses in lighter hues. The aesthetic recaptures the tactility and hand-hewn nature of physical maps, qualities that are often lost with digital maps, while being rooted firmly in the open data ethos and global nature of the OpenStreetMap project. The maps have been ubiquitous on the web and used in thousands of mapping projects around the world.
---
What did Smithsonian do?
In order to create this live version of the website, our Smithsonian team worked closely with Eric Rodenbeck, Stamen's Founder and Creative Director, and his team. We actively sought to acquire Watercolor Maptiles not as an archived site, similar to how the Library of Congress archives websites, but as a live site in order to prioritize free access and interaction—hallmarks of the original site. We had to form artificial boundaries in order to tame Watercolor Maptiles into something "collectible" by institutional standards, despite it still breaking with conventions in many ways. Notably, Cooper Hewitt's branch of the site disentangles Watercolor Maptiles from Stamen Design's other web-mapping tools. We copied the watercolor map tiles from Stamen to Smithsonian servers; relinked the code to the new server locations, now under Smithsonian's control; and made required security modifications, updating the site's http protocol to the more secure encryption of the https protocol (a web standard that began in 2014).
We made minimal, but critical, changes from the original site. Removing the black band located across the top of the original site enabled us to feature more of the watercolor map and signal its disentanglement from the other web-mapping tools. Options to "Donate" funds and to "Buy" objects decorated with maptile images available on the original site were removed and replaced with this "About" section. A key goal for institutional collecting of digital objects is to document and reveal to the public as much of our process for collecting and preserving as possible. We have maintained the "Embed" function of the site to ensure usability as it was initially designed. And we continue to make the site publicly accessible and open to all, critical to the ethos of the project since its launch.
We recentered the site's landing page to feature Cooper Hewitt's New York City location rather than Stamen's San Francisco headquarters. This slight modification seeks to reflect the site's literal and visible acquisition from its native Stamen ecosystem to Smithsonian's collection. The landing page of the original site is documented below.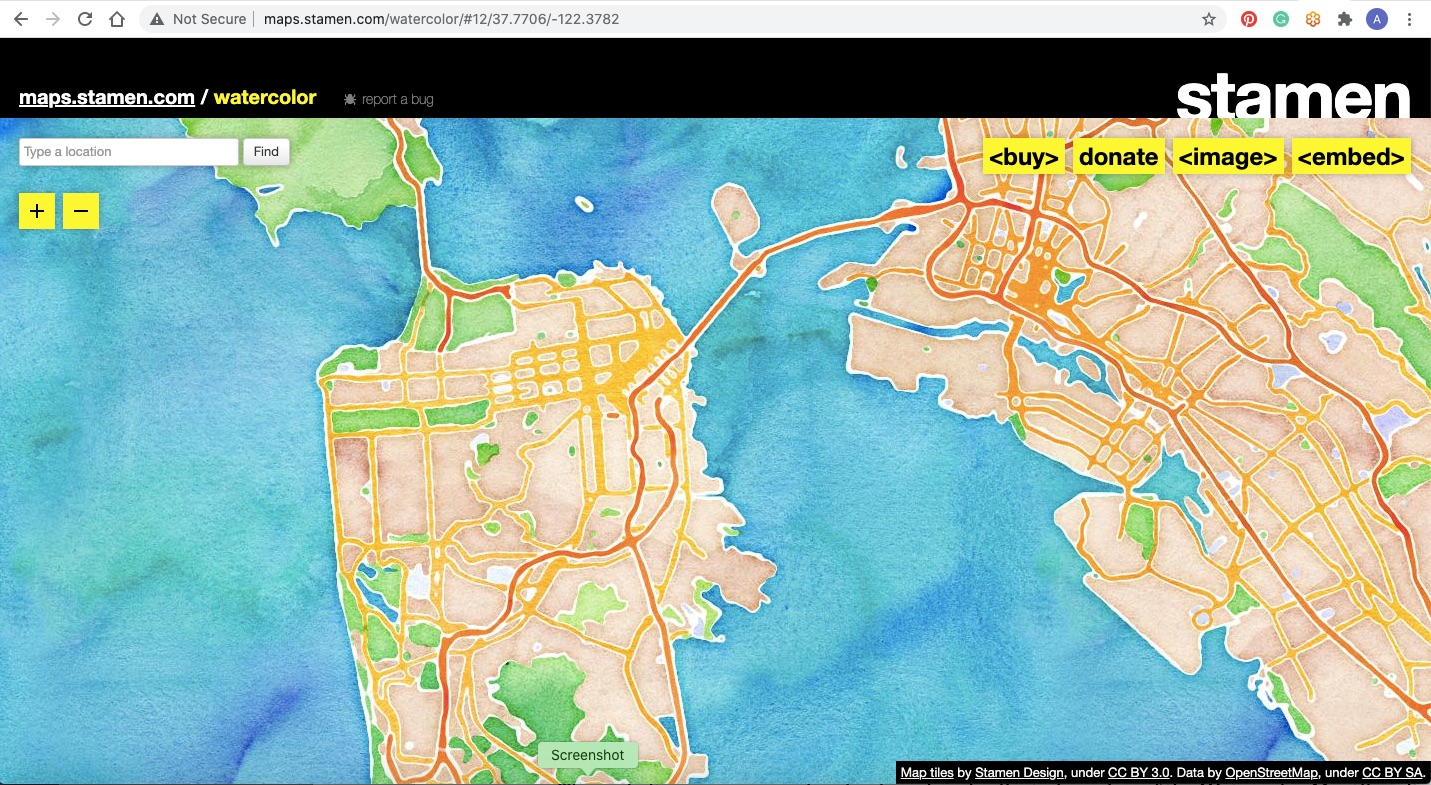 ---
Other resources:
Cooper Hewitt archived the more than 56 million map tiles and original code in its secure Digital Asset Management System (DAMS). Furthermore, the museum has generated extensive documentation around our efforts, including designer interviews; video documentation navigating the native site; a substantial research dossier tracking all assets, changes, and the acquisition process; and the acquisition of printed maps made by Stamen Design when the website first launched.
Here is the Watercolor Maptiles's Cooper Hewitt collection record.
Click here to watch a video of Eric Rodenbeck, Stamen Design founder and creative director, discussing the work.
---
Legal:
The public is welcome to use and generate map tiles on this site in accordance with the Creative Commons copyright licenses provided by Stamen Design and OpenStreetMap. In all other respects, the Cooper Hewitt, Smithsonian Design Museum makes this site available under www.si.edu/termsofuse and Smithsonian Institution's Privacy Statement.